Main content starts here, tab to start navigating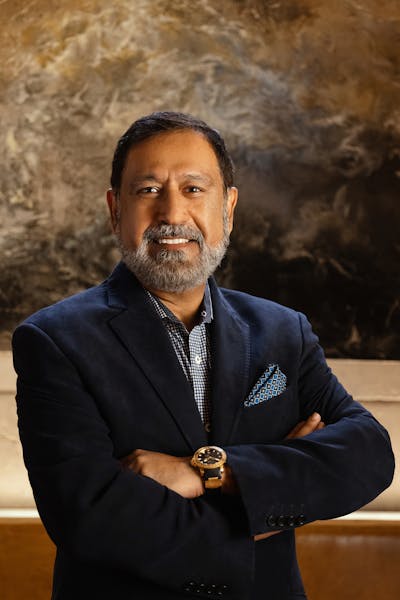 Rajesh Bhardwaj
Founder/CEO
Rajesh Bhardwaj is an experienced entrepreneur and restaurant operator He is Owner and Founder of Junoon, an award-winning fine dining restaurant in New York redefining Indian gastronomy and elevating it to unprecedented heights. Earning both a Michelin star and a Wine Spectator Best Award of Excellence for eight consecutive years since opening in 2010.
After he earned his undergraduate degrees in Hospitality Management from the Institute of Hotel Management, and Business Management from New Delhi University, India, he earned his Master's degree in Hospitality Management from the International School of Tourism Sciences in Rome, Italy. Rajesh began his hospitality career in his native India with India Tourism Development Corp and Taj Hotels Group, where he worked as a Food & Beverage Manager.
He then moved to the United States in the early 90's and opened his first venture, a small Indian restaurant in Queens, New York. Rajesh then co-founded the highly successful Café Spice restaurant group, which launched in 1997 and changed the landscape of Indian cuisine in the U.S. It realized his vision of introducing a modern bistro-style of Indian dining, which was unprecedented at the time, and ultimately expanded to 12 locations in the Northeast. Rajesh served as COO of Café Spice until 2009 when he left to develop his next venture, Junoon.
Since 2010, Rajesh has been the Founder and CEO of Junoon Restaurants and RB Hospitality Group.